Save your property from water damage from leaking pipes. We find the leaky culprit and fix it fast which can save you thousands in water damage costs.
10% Off Water Leak Detection and Pipe Repair
Get 10% off as a first time client. We're so proud of our work, we know word will get around quickly!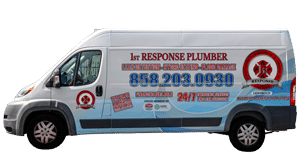 Cannot be redeemed with other offers. Must mention promotion when calling to receive discount.
At 1st Response Plumbing & Flood Damage, we offer professional and efficient water pipe leak detection services with our advanced equipment. With the help of our expertise, knowledge and state-of-the-art equipment, we locate the water leaks at your place, quickly and precisely. We respond quickly to your request for water leak detection in San Diego and surrounding areas.
Professional, Experienced and Trained Experts
1st Response Plumbing & Flood Damage is proud of its team of skillful, trained and experienced professionals. Their knowledge and expertise play a pivotal role in the accurate detection of water leaks at your premises. We have over 15 years of experience in the field which ensures that we have the knowledge and expertise to handle the situation. During this period, our team has encountered thousands of water leak detection issues and resolved them efficiently.
Use of Advanced Technologies for Water Pipe Leak Detection
At 1st Response Plumbing & Flood Damage, we are fully knowledgeable and expert in using advanced water leak detection equipment, which includes acoustics, thermal and infrared cameras as well as the tracer gas. Our experts do not just use a single method for water pipe leak detection. We implement multiple methods for precise leak detection, which makes us the right company for your water leak detection requirements in San Diego.
Contact 1st Response Plumber San Diego