Quickly and efficiently install or repair your sump pump from the sump pump experts!
First Response Flood Damage and Plumbing provides highly efficient and swift sump pump installation, repair and replacement services whenever you need. The problems with your sump pump can happen at any time of the day or night. You need someone to respond to your sump pump emergency in San Diego as quickly as possible.
Rely on Professional Expertise for Sump Pump Services
You can rely on First Response Flood Damage and Plumbing sump pump services to handle your problems. We instantly respond to your request and reach you in about 60 to 90 minutes, depending on your location. Our team arrives at your place equipped with the skills and necessary equipment to deal with your sump pump problem quickly and effectively.
Why You need Sump Pump Experts to Handle the Issues?
If you have a basement in your house, a sump pump is installed for water drainage or removal from the basement. It is one of the few things in your home that you may not remember, until you face problems. There can be various reasons for sump pump failure, and First Response Flood Damage and Plumbing has fixed nearly all those sump pump failure reasons.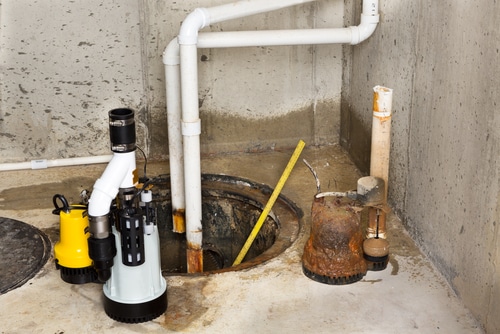 Don't leave your sump pump problems in unprofessional and in-experienced hands. This can result in heavy loses both in terms of money and damage. It is necessary that you instantly address the issue with your sump pump; otherwise, it can lead to more serious problems which can cause damage to your property.
Whether you need new sump pump installation or require repair or replacement of your malfunctioning sump pump, we can handle all situations with professional expertise.
Cost-effective and Actionable Sump Pump Services
With more than 15 years of experience in plumbing, we offer you the most cost-effective, quick and actionable solutions to deal with your sump pump emergency. We thoroughly check and identify your sump pump issue and immediately start working on an actionable plan to fix it with our knowledge and expertise.
Call us right now if you need expert sump pump installation, repair or replacement in San Diego and surrounding areas!
Contact First Response Flood Damaging and Plumbing San Diego