SAN DIEGO ESCONDIDO PLUMBER
Escondido San Diego Plumbers
Reliable Services & Exceptional Craftsmanship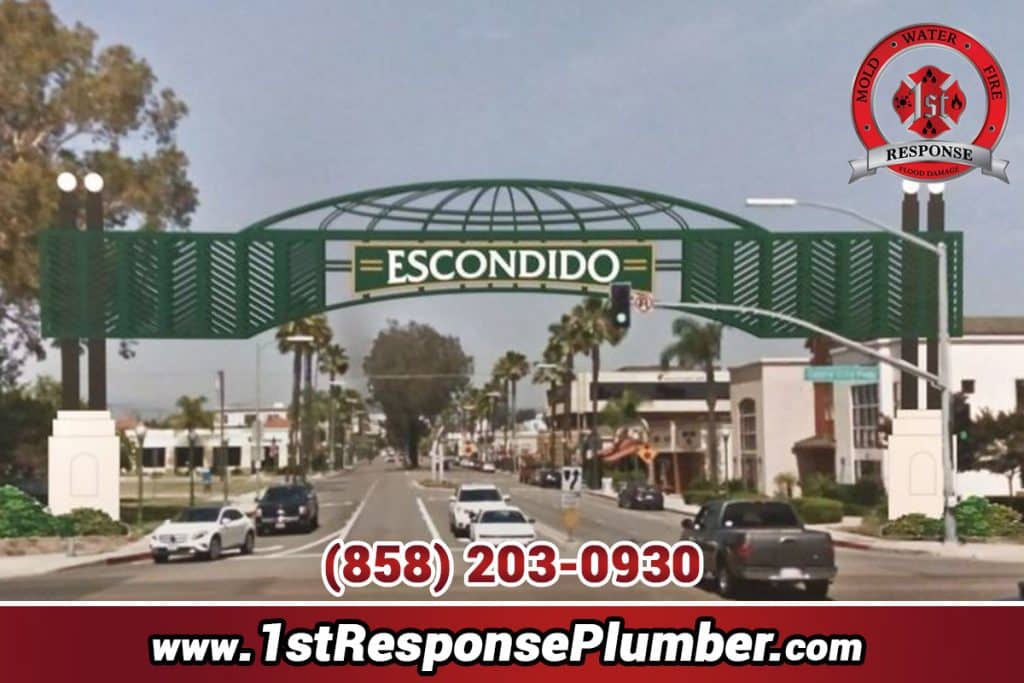 Whenever you need a professional plumber in Escondido, the staff at 1st Response Plumber is available 24/7, 365 days a year to assist you. We understand that plumbing emergencies can arise at any time of the day or night, that is why we have our staff available round the year and clock to help our customers. 
Our extensively trained plumbers can help you in resolving all your plumbing problems in no time. Whether it be drain cleaning or new plumbing installation, no task is too big or small for us.  
A home inspection is always best to obtain before you purchase it and our Escondido plumber will accurately assess your plumbing situation to inform you if there are any repairs or leaks. In case we find any, we will provide you with a thorough evaluation of our findings and give you an affordable estimate of the repair work. Furthermore, we will use the information from your home inspection to target all the potential problem areas. 
We work both with residential and commercial clients in Escondido, and our Escondido plumbers are available both on appointment and emergency basis. Moreover, we provide thorough plumbing inspection services, especially if you are looking to purchase a new home.
We also provide services that you may not expect. These include detecting and fixing your plumbing issues, undetected issues and hidden repairs or damages that would have costed you a lot of money in future. With 1st Response Plumber technicians, we will find and locate the leak ASAP and repair it in a timely fashion. 
To schedule an appointment with one of our plumbers or for more information, call us today at (858) 203-0930.
About Escondido
Escondido is a city in San Diego County's North County region, 30 miles (48 km) northeast of downtown San Diego, 15 miles from the ocean, and 40 miles from the Mexican border. The city occupies a shallow valley ringed by rocky hills. Incorporated in 1888, it is one of the oldest cities in San Diego County. It has a population of 143,911 as of the 2010 census.
The Escondido area was first settled by the Luiseño, who established campsites and villages along the creek running through the area. They named the place Mixéelum Pompáwvo or "Mehel-om-pom-pavo." The Luiseno also had another village north of Mixéelum Pompáwvo called Panakare. The Kumeyaay migrated from areas near the Colorado River, settling both in the San Pasqual Valley and near the San Dieguito River in the southwestern and western portions of what is now Escondido. Most of the villages and campsites today have been destroyed by development and agriculture.
Unbeatable Plumbing Repair Services
We know that every home or business owner relies on their plumbing system. But if something goes wrong, it can completely disrupt your routine. Our expert plumbers at 1st Response Plumbing can help you fix your plumbing problems and get you back on track with our highly reliable repair and replacement services. You might be tempted to fix plumbing issues on your own but it is always a smart decision to leave plumbing problems to experienced professionals who will get the job done right the first time.
We can fix a number of plumbing problems which include but are not limited to:
Plumbing Installation & Replacements
If you have any plumbing fixture or a pipe in your home that is beyond repair, our expert plumbers can help you replace it. We are the best plumbing company in San Diego, and we are fully committed to provide you with the highest caliber products at the most affordable prices. We do not compromise the quality of our work. Whenever you find yourself in need of any kind of replacement or a new installation service, simply give us a call, and we will provide you with a complete plumbing solution that fits in your budget. Call us today to get a free of cost plumbing service estimate from one of our top-rated plumbers.