SAN DIEGO MISSION BEACH PLUMBER
Mission Beach San Diego Plumbers
Reliable Services & Exceptional Craftsmanship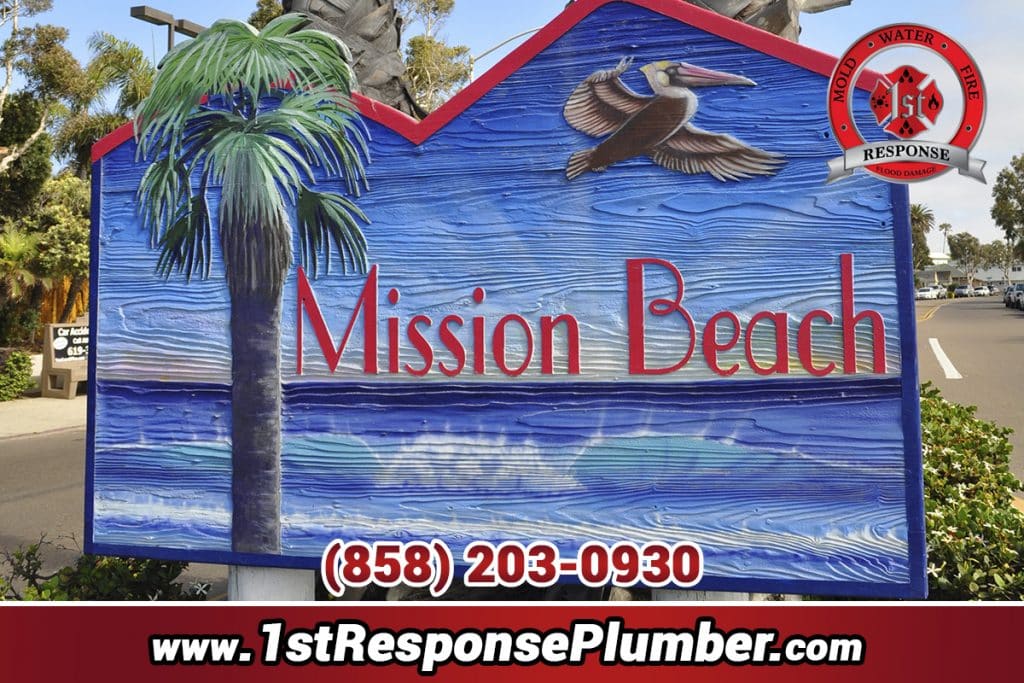 As an industry leader for years, we at 1st Response Plumber are here to serve you with the very best Mission Beach plumbers. Our Mission Beach plumbers understand the importance of keeping homes and businesses free from problems pertaining to gas lines, sewage systems, water filtration, leaks, and more. 
A Mission Beach plumber from 1st Response Plumber can help you by checking for leaks throughout your home and go ahead with any necessary repairs immediately, at your request. In case of an emergency, we are always available 24/7. Services offered by our team includes, but are not limited to, drain snaking, sewer camera inspections, slab leak location and repair/re-piping, and water heater or circulation systems. Depending on what you want us to install, you can ask us about a government rebate for being environmentally friendly with your plumbing choices.
That's why we highly suggest to our clientele that it is a good idea to check your own appliances periodically or as soon as you suspect there is a problem. In case you ever find a problem that you cannot fix entirely by yourself, keep our contact information handy at all times so we can send you a trustworthy Mission Beach plumber. To make our services more affordable, we at 1st Response Plumber offer you coupons, specific to the service you need, that you can print out and give to your technician.
We at 1st Response Plumber value your time and budget as much as you do, and we offer you nothing but the best service in the area. Any questions or comments you have are welcome, so have no hesitation in contacting us so we can be of assistance to you.
To schedule an appointment or receive a free estimate with an exceptional plumber, please contact us at (858) 203-0930.
About Mission Beach
Mission Beach is a community built on a sandbar between the Pacific Ocean and Mission Bay. It is part of the city of San Diego, California.
Mission Beach spans nearly two miles of ocean front. It is bounded by the San Diego River estuary on the south, Mission Bay Park on the east, and the community of Pacific Beach on the north. A boardwalk runs along the beaches on both the ocean and bay sides of the community. The main artery through Mission Beach is Mission Boulevard. The community is divided into South Mission, a peninsula, and North Mission. At the south end of the beach a jetty, with grass, parking and a walk, extends into the ocean.
Unbeatable Plumbing Repair Services
We know that every home or business owner relies on their plumbing system. But if something goes wrong, it can completely disrupt your routine. Our expert plumbers at 1st Response Plumbing can help you fix your plumbing problems and get you back on track with our highly reliable repair and replacement services. You might be tempted to fix plumbing issues on your own but it is always a smart decision to leave plumbing problems to experienced professionals who will get the job done right the first time.
We can fix a number of plumbing problems which include but are not limited to:
Plumbing Installation & Replacements
If you have any plumbing fixture or a pipe in your home that is beyond repair, our expert plumbers can help you replace it. We are the best plumbing company in San Diego, and we are fully committed to provide you with the highest caliber products at the most affordable prices. We do not compromise the quality of our work. Whenever you find yourself in need of any kind of replacement or a new installation service, simply give us a call, and we will provide you with a complete plumbing solution that fits in your budget. Call us today to get a free of cost plumbing service estimate from one of our top-rated plumbers.