Ramona San Diego Plumbers
Reliable Services & Exceptional Craftsmanship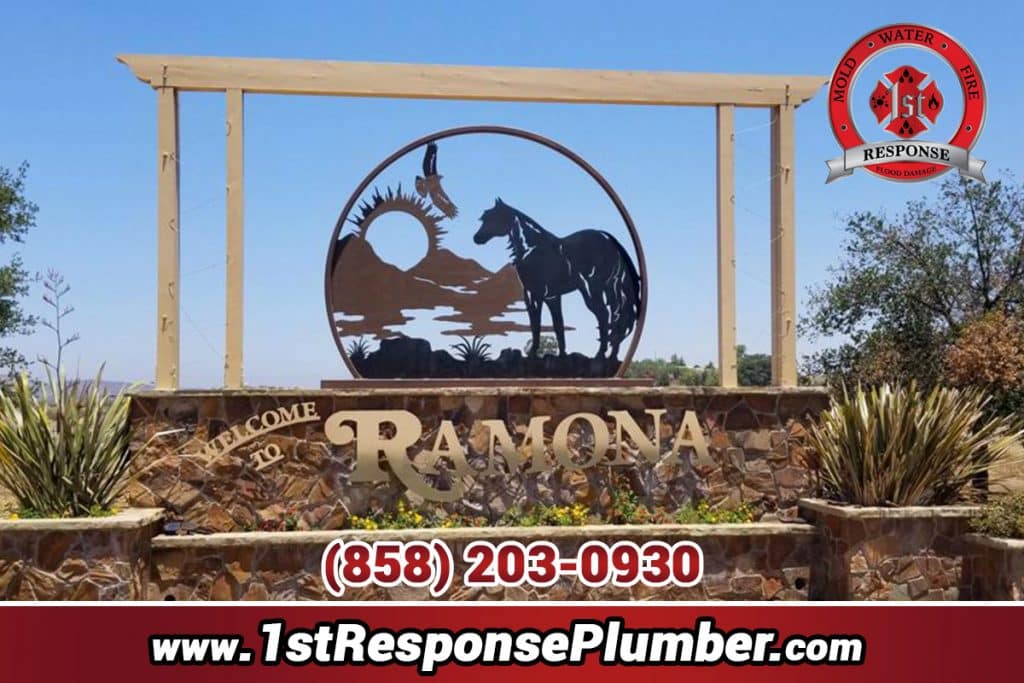 1st Response Plumber is a locally-owned and operated business, focused on providing exceptional plumbing services and competitive pricing. We have been creating success stories as Ramona San Diego plumbers for years. We are proud of our track record as a company with solid business ethics and of our ability to consistently exceed the expectations of both residents and businesses in the area. We are proud to have been your Ramona plumber!
As your Ramona plumber, we provide a wide variety of plumbing services ranging anywhere from plumbing inspections, installations and repairs. We perform sewer camera inspections and will even hook-up your appliances. We are also skilled with both conventional and tankless water heaters, and pressure regulators.
We offer both commercial and residential plumbing services and hire only the most qualified and professional Ramona plumbers who understand our high ethical standards and quality expectations. Our plumbers are experienced and well educated and will be able to assess and repair your plumbing issue in a timely and cost-effective manner. We do not contract out our services. In fact, all of our Ramona plumbers are full-time employees of 1st Response Plumber. and work solely for our company. We understand that your time and money are valuable, and are able to offer you great service at exceptional prices.
We love being trusted as your Ramona plumber and are committed to creating great customer relationships with you, and making your priorities our priorities. We even offer emergency plumbing service 24 hours a day and 7 days a week to help better serve your personal and commercial needs. We work on your time with your priorities!
To schedule an appointment or receive a free estimate with an exceptional plumber in Ramona San Diego, please contact us at (858) 203-0930.
About Ramona
Ramona is a census-designated place (CDP) in San Diego County, California. The population was 20,292 at the 2010 census.
The term Ramona also refers to an unincorporated community (with some plans to incorporate) that includes both the Ramona CDP and the adjacent CDP of San Diego Country Estates. The population of the two CDPs, which does not include the fringe areas surrounding the CDPs, was 30,301 at the 2010 census, up from 25,223 at the 2000 census. The Ramona Community Planning Area had a population of 33,404 at the 2000 census. The January 1, 2006, population of the Ramona Community Planning Area is estimated to be 36,405 by the San Diego Association of Governments (SANDAG). USDA Hardiness Zones are 9b and 10a.
Unbeatable Plumbing Repair Services
We know that every home or business owner relies on their plumbing system. But if something goes wrong, it can completely disrupt your routine. Our expert plumbers at 1st Response Plumbing can help you fix your plumbing problems and get you back on track with our highly reliable repair and replacement services. You might be tempted to fix plumbing issues on your own but it is always a smart decision to leave plumbing problems to experienced professionals who will get the job done right the first time.
We can fix a number of plumbing problems which include but are not limited to:
Plumbing Installation & Replacements
If you have any plumbing fixture or a pipe in your home that is beyond repair, our expert plumbers can help you replace it. We are the best plumbing company in San Diego, and we are fully committed to provide you with the highest caliber products at the most affordable prices. We do not compromise the quality of our work. Whenever you find yourself in need of any kind of replacement or a new installation service, simply give us a call, and we will provide you with a complete plumbing solution that fits in your budget. Call us today to get a free of cost plumbing service estimate from one of our top-rated plumbers.