SAN DIEGO SERRA MESA PLUMBER
Serra Mesa San Diego Plumbers
Reliable Services & Exceptional Craftsmanship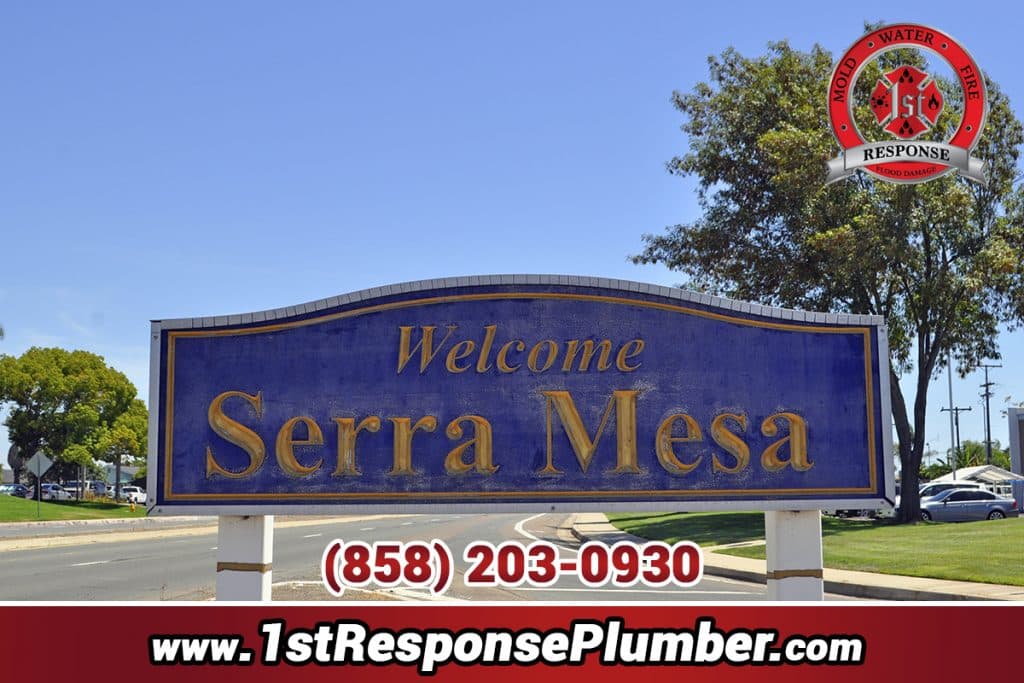 If you are looking for an experienced Serra Mesa plumber in San Diego, then trust only 1st Response Plumber plumbers. We have been in business for the past several years and take pride in the quality of our services and the expertise that we provide our customers with. 
So, if you are faced with a plumbing issue at your home or office and are looking for a Serra Mesa plumber, then contact us today at 1st Response Plumber. It doesn't matter if you are living a home with old plumbing that requires some repair work or in a home with the latest plumbing fixtures and installation techniques, we can handle it all for you.
We are located in San Diego and have been employing some of the most professional and highly skilled Serra Mesa plumbers. As a locally owned and operated business, our reputation is very dear to us, and we only send out the plumbers who will meet or exceed our expectations. 
You can call us anytime. We are available 24/7, 365 days a year and have the experience and knowledge of the local codes and regulations that will ensure that your building with pass the inspection the very first time. 
There is no doubt that we the number one choice of home and business owners in Serra Mesa. When you call us for help, we will treat your plumbing problem as ours. Whether it is a weekday or a weekend, a holiday or Christmas day, our plumbers are always ready to help you out get rid of your problems. 
To schedule an appointment with one of our plumbers or for more information, call us today at (858) 203-0930.
About Serra Mesa
Serra Mesa is a community in San Diego, California., roughly between Interstate 805 and Interstate 15, north of Friars Road and south of Aero Drive. It is named for Junípero Serra, a Majorcan (Spain) Franciscan friar who founded the Mission San Diego de Alcalá. Adjacent communities include Kearny Mesa, Tierrasanta, Mission Valley, and Linda Vista.
The community has a
population about ly 24,000 people, with 8,374 housing units, most of them single family.
The area was originally part of the Mission Rancho Lands of San Diego granted to the Catholic Church by the King of Spain. When the Missions were secularized by Mexico in 1834, the land was deeded over to various men, including Don Santiago Argüello, who eventually divided and sold some 15,999 acres (65 km2) of land.
More modern development of the community began after the Korean War, when the Navy built its Cabrillo Heights housing project in the early 1950s.
Unbeatable Plumbing Repair Services
We know that every home or business owner relies on their plumbing system. But if something goes wrong, it can completely disrupt your routine. Our expert plumbers at 1st Response Plumbing can help you fix your plumbing problems and get you back on track with our highly reliable repair and replacement services. You might be tempted to fix plumbing issues on your own but it is always a smart decision to leave plumbing problems to experienced professionals who will get the job done right the first time.
We can fix a number of plumbing problems which include but are not limited to:
Plumbing Installation & Replacements
If you have any plumbing fixture or a pipe in your home that is beyond repair, our expert plumbers can help you replace it. We are the best plumbing company in San Diego, and we are fully committed to provide you with the highest caliber products at the most affordable prices. We do not compromise the quality of our work. Whenever you find yourself in need of any kind of replacement or a new installation service, simply give us a call, and we will provide you with a complete plumbing solution that fits in your budget. Call us today to get a free of cost plumbing service estimate from one of our top-rated plumbers.