SAN DIEGO SORRENTO VALLEY PLUMBER
Sorrento Valley San Diego Plumbers
Reliable Services & Exceptional Craftsmanship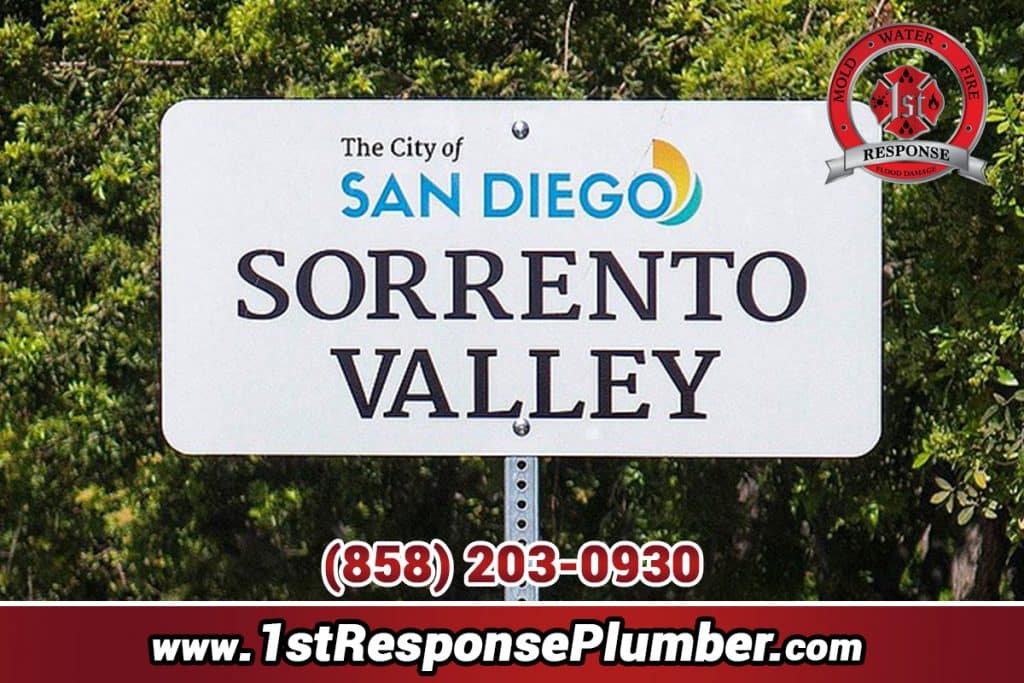 Whenever any plumbing issues arise at your home or business location, it is important that you know a plumbing company that you can trust. At 1st Response Plumber, we have been proudly serving the San Diego county for decades and we have a full team of professional plumbers who offer unmatched services at the most affordable rates.
A professional Sorrento Valley plumber from 1st Response Plumber can help resolve any kind of plumbing issues. Our plumbing will not only point out the source of the problem, but also offer solution to your plumbing issues.
There is no repair that is too big or small for us. Apart from installation and repairs, we provide general plumbing services. We have the experience of dealing with both new and old plumbing fixtures. 
If you are living in Sorrento Valley, and need a plumber, we can help you out. We provide highly-skilled Sorrento plumbers who are available 24/7.
1st Response Plumber not only helps to fix plumbing problem, but we also search for different ways to reduce your energy usage and lower your energy bills.
We have the most affordable prices in town, and we provide professional service without compromising on the quality.
To schedule an appointment or receive a free estimate with an exceptional Sorrento Valley San Diego plumber, please contact us at (858) 203-0930.
About Sorrento Valley
Sorrento Valley is a neighborhood of San Diego, California. It is located about 17 mi (27 km) north of Downtown San Diego and its main airport, Lindbergh Field. It is roughly bounded by Interstate 5 and Interstate 805, Camino Santa Fe to the east, the Los Peñasquitos Canyon Preserve to the north and Miramar Road to the south, as shown on the San Diego Police Department's neighborhood map. It encompasses Sorrento Mesa and is part of the San Diego Unified school district.
While originally envisioned and zoned for industrial use, Sorrento Valley is now home to over 5,000 residents spread across three major single family home and condominium developments. Sorrento Valley is known as a center for high tech, biotech and scientific research, aided by its close proximity to the University of California, San Diego. It is part of the city's Mira Mesa, Torrey Pines, and University community planning areas.
Unbeatable Plumbing Repair Services
We know that every home or business owner relies on their plumbing system. But if something goes wrong, it can completely disrupt your routine. Our expert plumbers at 1st Response Plumbing can help you fix your plumbing problems and get you back on track with our highly reliable repair and replacement services. You might be tempted to fix plumbing issues on your own but it is always a smart decision to leave plumbing problems to experienced professionals who will get the job done right the first time.
We can fix a number of plumbing problems which include but are not limited to:
Plumbing Installation & Replacements
If you have any plumbing fixture or a pipe in your home that is beyond repair, our expert plumbers can help you replace it. We are the best plumbing company in San Diego, and we are fully committed to provide you with the highest caliber products at the most affordable prices. We do not compromise the quality of our work. Whenever you find yourself in need of any kind of replacement or a new installation service, simply give us a call, and we will provide you with a complete plumbing solution that fits in your budget. Call us today to get a free of cost plumbing service estimate from one of our top-rated plumbers.