Santee San Diego Plumbers
Reliable Services & Exceptional Craftsmanship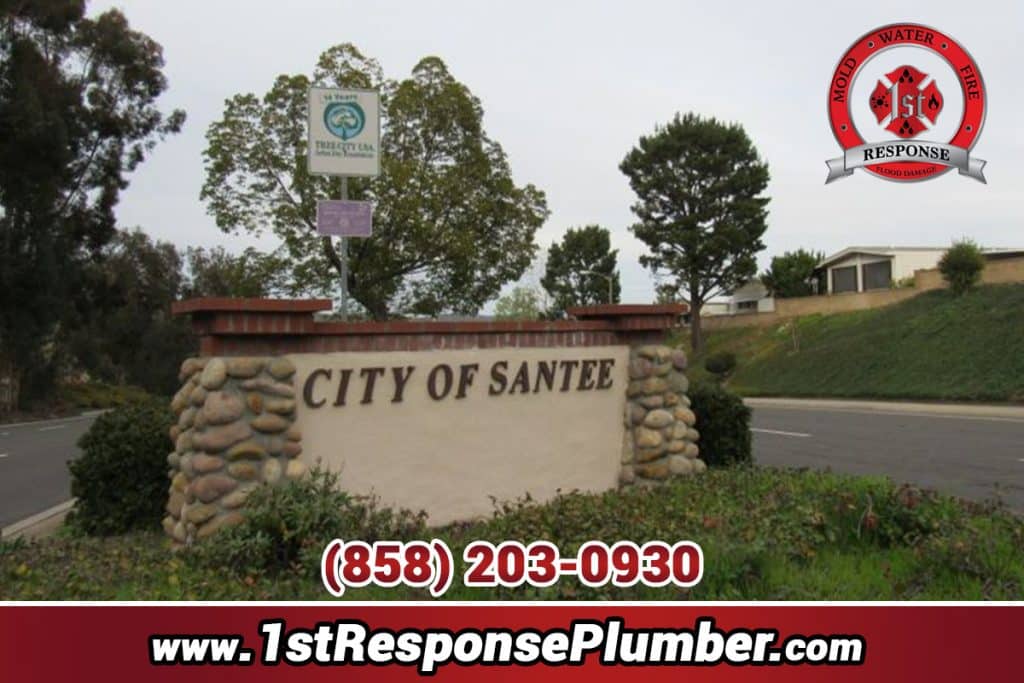 Best Plumbing Services in Santee
Are you facing annoying plumbing issues? Have a messed-up plumbing at your home in Santee? Looking for a quality plumber? If so, then 1st Response Plumber is the right company that can help you with all of it. Each of the Santee plumber that our company employs is a top expert in all of the plumbing works. 
Plumbing Repairs and Installation in Santee
1st Response Plumber can help you with both the residential and commercial plumbing problems in Santee. We provide the highest-quality service to both the residential and commercial customers, and as a locally owned and operated business, we are always ready to take any kind of plumbing job, no matter how big or small. 
At 1st Response Plumber, we always employ quality Santee plumbers to service the San Diego area and we have been doing this for years now. Each of our Santee plumber can easily handle any kind of repair or installation work, even under the most challenging plumbing emergencies. Whether it be a leaking pipe or toilet clogs and floods, we can handle it all for you. 
Emergency Plumbing Services in Santee
Whether it be a burst pipe or a leak, there isn't any plumbing challenge that our Santee plumbers cannot fix. We will not only repair these issues quickly, but also efficiently. 
Cost of Plumbing Services in Santee
The cost of your plumbing repair highly depends on the type of plumbing repair job. Our experts at 1st Response Plumber can provide you with a free visual estimate before beginning any repairs. 
To schedule an appointment or for more information about our services, call us today at (858) 203-0930.
About Santee
Santee is a suburban city in San Diego County, California, with a population of 53,413 at the 2010 census. Although it is a part of the East County region, Santee is located just 18 miles (29 km) from the Pacific Ocean. The city is connected to the coastline by State Route 52, a six-lane freeway that runs from Interstate 5 in La Jolla to State Route 67 in El Cajon. The city is bisected by the San Diego River, a linear greenbelt that includes parks, trails and more than 1,100 acres (450 ha) of natural riparian habitat.
The region was the homeland of the Kumeyaay people. These original residents established the village of Sinyeweche on the banks of the San Diego River in the present day Santee area.
The city is named after Milton Santee, the second husband of Jennie Blodgett, whose first husband was George A. Cowles, a pioneer rancher and businessperson in the San Diego County area.
Unbeatable Plumbing Repair Services
We know that every home or business owner relies on their plumbing system. But if something goes wrong, it can completely disrupt your routine. Our expert plumbers at 1st Response Plumbing can help you fix your plumbing problems and get you back on track with our highly reliable repair and replacement services. You might be tempted to fix plumbing issues on your own but it is always a smart decision to leave plumbing problems to experienced professionals who will get the job done right the first time.
We can fix a number of plumbing problems which include but are not limited to:
Plumbing Installation & Replacements
If you have any plumbing fixture or a pipe in your home that is beyond repair, our expert plumbers can help you replace it. We are the best plumbing company in San Diego, and we are fully committed to provide you with the highest caliber products at the most affordable prices. We do not compromise the quality of our work. Whenever you find yourself in need of any kind of replacement or a new installation service, simply give us a call, and we will provide you with a complete plumbing solution that fits in your budget. Call us today to get a free of cost plumbing service estimate from one of our top-rated plumbers.